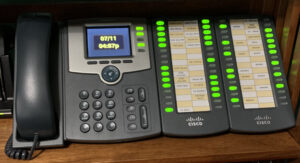 SouthEast Link as well as some LMARC repeater systems can be joined via HAMShack Hotline, see below for more information on these bridges as well as other conference extensions that we offer for specific uses..
HamShack Hotline (HH) is a FREE dedicated VOIP telecom service for the Ham Radio community.
LMARC Admins can be reached on HamShack Hotline by dialing 550-000-0294.
We currently offer the following HamShack Hotline RF-Link bridge extensions:
Extension 94004 – SouthEast Link Bridge System
Extension 94010 – N4LMC 144.920 Repeater System
Extension 94013 – W4GTA 145.350 Repeater System
Extension 94062 – N4LMC HUB System
Extension 94145 – N4BZJ 147.135 Repeater System
Extension 94147 – N4LMC 224.560 Repeater System
Extension 94151 – N4LMC Frequency Agile Node
To use any LMARC based HAMShack Hotline RF bridge:
Dial the extension from any HAMShack Hotline enabled phone
Wait for the "Node Connected" message
Press *99 to talk (PTT)
Press # to unkey
We also have a private HAMShack Hotline Conference Bridge that is used for EMComm situations by ourselves, NW GA ARES, NW GA SkyWarn, and other NW GA EMComm participants.  If you are requested to join that bridge, you will be supplied the needed information at that time.
For more information about HAMShack Hotline and / or how to join in, see their website at hamshackhotline.com.
For links to the HAMShack Hotline Phone Book, Bridges, Feature Codes, etc…  go to the HAMShack Hotline Phone Book.