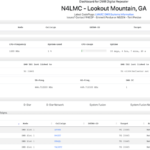 Dashboard, what's a dashboard?
Most digital systems such as Fusion (Wires-X, YSF and FCS), D-Star (X-Reflextors and D-Plus), DMR (TGIF, Brandmeister and DMR+), Allstar Link, Echolink and Shark IP Connector are run by computers that sit behind the repeaters… some large, some as small as a Raspberry Pi.
These computer systems are taking your digital transmissions, and those of others, and routing them back and forth across networks and/or the internet.  They are also performing many other tasks such as changing rooms, reflectors or talk groups for various nets.  They may also link other systems, send weather information, make announcements, or perform automated tasks.
The "dashboard" provides a look into who's doing what, when they did it, what the system is connected to, health of the system and much more.  Below are links to most of the dashboards that LMARC and it's systems provide, if a dashboard is marked "Coming Soon", it's not available yet and this page will be updated when it becomes available.
---
Allstar Systems
C4FM Systems (Fusion)
D-Star Systems
Digipeater Systems
DMR Systems
Echolink Systems
N4LMC-L Node 94680: Coming Soon
N4LMC-R Node 94681: Coming Soon
N9ZEN-L Node 82737: Coming Soon
N9ZEN-R Node 68581: Coming Soon
SELINK Conference Node 387904: Coming Soon
W4EDP-L Node 6858: Coming Soon
W4EDP-R Node 9058: Coming Soon
HBLink Systems
SharkRF IP Connector System